¡@

¡@
CLASSIC JOYPAD CONVERTER for FC2003
High quality product.
Use your PSX joypad, Dualshock, or Dualshock2 on your FC2003
2 levels of Turbo Fire on A and B buttons
Slow Motion
Analog function supported : use the analog stick to replace up, down, left and right buttons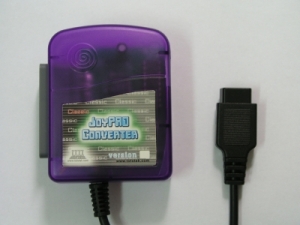 Product Description
Now you can use your lovely psx joy-pad, dual-stock joy-pad or dual-stock 2 joy-pad run on your FC2003 console with your favorite games
* 2 levels of Turbo Fire on A and B buttons
* Slow Motion
* Analog function supported : You can use Analog stick to replace Up, down, left and right buttons.
* No External power supply needed. It's use console internal power.
* Never hurt your fingers, because it's use PSX/PSX2 joy-pad, This is more comfortable feel as good as Playstation2.